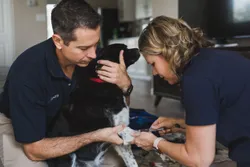 Appointments
Appointments can be scheduled during regular business hours Monday-Friday by calling 602-931-5869. We will attempt to accommodate all requests for same day appointments to the best of our ability. If all staff are working in a patients home and you receive a voice mail please leave a message and we will call you back. If you feel you have an emergency with your pet, please take them to an emergency hospital. We list the emergency number and information on our voice mail and refer to the 24 hour Animal Emergency and Critical Care Center on 86 W. Juniper Ave., Gilbert, AZ 480-497-0222.
We currently see dogs and cats of all sizes. We are happy to assist you with any dog or cat, from cats that can't be safely or calmly placed in a carrier and taken to a veterinary office to very large dogs that aren't able to stand or can't get into a car.
Services
Annual Examinations
Sick Examinations
Litter Examinations
Multiple Pet Examinations
Vaccinations
Microchips
Health Certificates- all veterinarians are USDA accredited
Diagnostics- blood tests, fecal analysis, urinalysis, tumor evaluations, cultures
Hospice Care
Cremation
Medical Grooming- toe nail trims, anal gland expression, matte clipping
Minor wound treatment
Ear, Eye, Skin Problems, Allergies
Cryosurgery for small skin masses
Blood pressure monitoring
OncoK9 PetDX liquid cancer biopsy
* Surgery, Dentistry and Radiographs are best performed at a full service hospital. If your pet needs any of these procedures we can refer to a local full service hospital.
Small Animal Housecalls accepts payment via cash, check, MasterCard, Visa, Discover and American Express. So that we can continue to provide you high quality service utilizing the best medical technologies, we request that payment be made at the time services are rendered.
We provide estimates for all services. If you have not received an estimate, you are welcome to request one at any time for your expected charges.
Small Animal Housecalls offers discounted services to multiple pet households. Please call us at 602-931-5869 for more information.
Testimonial
"Dr. Lowrance rocks. We met a few short months ago and she has been a valuable resource for our clients (and I hope that we have for her clients as well). She is the picture of professionalism and quality care. If you are one of her clients, you are in good hands."
Ron Tenney, DVM - Owner, Oasis Animal Hospital. Gilbert, AZ
"I cannot say enough about how caring and compassionate Dr. Lowrance and Dr. Varney are! We started in 2014 and found them professional, easy to schedule appointments, they return your calls promptly, genuinely care about your pet (s), and educate you on the diagnosis and/or treatment plan. They go above and beyond...we've never had such outstanding veterinarian service. We love the fact we did not have to bring in our older less mobile dog in to a clinic. Our other dog needs special medication prescribed monthly and Dr. Lowrance is so gracious to make sure this is in place. I highly recommend this vet team and know your pet will get great care. Thank you Dr. Lowrance and Dr. Varney for all you do!"
Sharon Aysien